In today's world, every generation is involved in some funny business of their own. In fact, for all these activities, there are specific slang and short forms that are used quite often. Parents are not very fluent in this slang, and hence, they sometimes fail to understand what is happening. Additionally, kids these days also use a lot of emojis in order to express their exact plans. Decoding these text chains can be pretty tricky for parents. Thus, we are explaining all these slang terms and emojis so that parents can be a little more aware next time.
In 2020 research on children and technology, some astonishing details were revealed. It was reported that about 91.1% of teens are engaged in conversations surrounding drugs and alcohol. Moreover, a study in the UK revealed that 1 in 4 young people had seen illicit drugs advertised on social media. These are some alarming numbers that can genuinely shock parents everywhere. The most frightening thing for them is the ease of acquiring drugs in today's world. Drug dealers use the presence of this slang to their advantage, and it could turn out to be quite dangerous. Hence, you all need to be aware of these terms to avoid any catastrophic events.
Teen party slangs you must know.
Find out how often your kid gets 'lit' and with what. It is indeed the ultimate guide to teen party slang and emojis. All parents definitely need to know these.
Nic/Device: Due to the increase in nicotine use among teenagers, these terms have come out to become quite common nowadays. Nicotine is generally reduced tonic, and vape pens or e-cigarettes are usually referred to as 'devices.' Several devices such as JUULs, which are pretty easy to hide, are included. Furthermore, e-cigarettes like Suorin and PHIX are also quite often used by teenagers for their nicotine cravings.
Kush/Flower: There are dozens of party slang terms, but this seems to be the favorite among teenagers. You're probably familiar with the many names for marijuana. However, those terms have become outdated in the modern world. You will never see kids calling it to pot these days simply because it has become too easy to decode. Thus, teenagers will use kush or flowers to refer to marijuana or pot.
Faded/Cooked/Baked: Using the term 'high' to describe the effects of pot has become old now. Teens nowadays wouldn't use that term anymore. On the contrary, they prefer slang like faded, cooked, and baked for the same. These slang terms describe one's experience smoking marijuana and not nicotine. Hence, you must be careful not to get confused between the two.
Addy/Study Buddy: Adderall is one of the most popular drugs among high schoolers. They take this drug to cram their studies the night before an exam. Hence, many folks use the word' study buddy' while referring to this drug. Some students with ADHD have generally been prescribed Adderall. They take advantage of this fact to acquire some supplies and sell them to their friends in school. The most astonishing part is that nobody has even figured out the real meaning of the slang yet.
Beans/Bars/Xannies: Like Adderall, Xanax is yet another popular drug among high school students. They are often given out as prescriptions but are abused by many teens out there. Additionally, some young people experiment with these at parties by combining them with alcohol. This act can be quite harmful to them because Xanax paired with alcohol damages the cardiovascular system. Thus, it will be best if you keep your ears peeled for these slang terms as they can be pretty dangerous.
Crossed: Mixing substances has become popular in most teenage parties and night-overs. Crossed is generally used by them when they mix marijuana and alcohol. It tends to be one of the most common combinations in high school parties. Getting 'crossed' or 'crossfaded' can often lead to severe chronic dysfunction.
Drug slang emojis that you should know.
There are numerous emojis from DEA sources that teenagers use for their drug habits. Consider this a glossary of all the standard emojis they use so that you can be well-versed.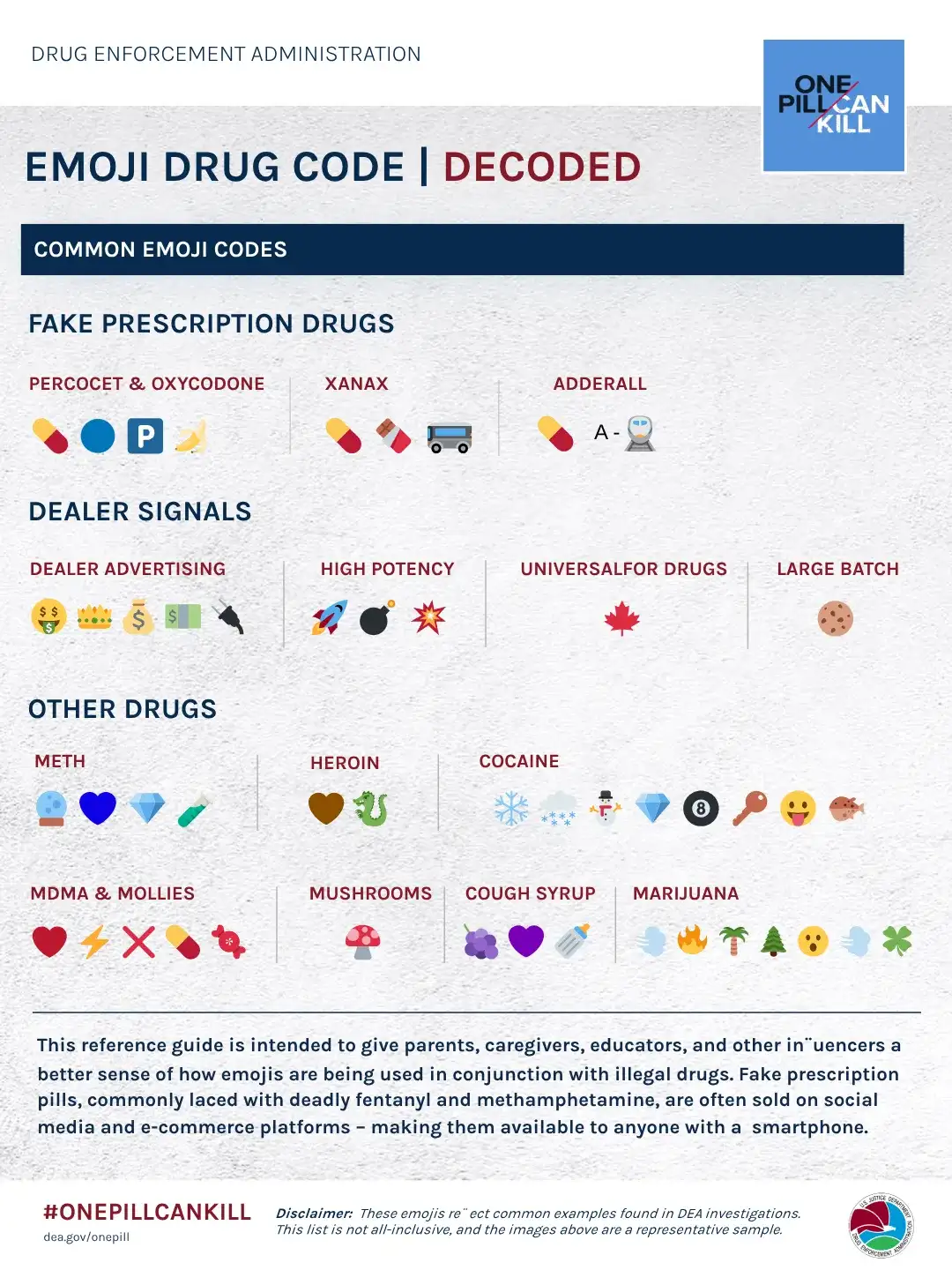 If a child were texting someone with a slang term or an emoji, parents could quickly get involved. All they need to do is be well-versed with these slang terms and emojis. Hence, the abuse of drugs by their children could be stopped easily. An occasional drink here and there is fine, but extreme drug abuse could be hazardous. In today's world, the use of drugs among teenagers is increasing rapidly. Numerous studies and research have suggested that a large ratio of teens are involved in these activities. Thus, parents have to step in as soon as possible.
If you wish to keep tabs on your child's online interactions, Avosmart is the best software for you. It works exceptionally well in monitoring and limiting their social media. Furthermore, the subtle tools within this software ensure that you stay well-informed at all times. In fact, you can even locate your kid through their phone using Avosmart. Hence, it is time for you to become smart and start utilizing tools like Avosmart that are highly beneficial.